IT IS ALMOST LIKE BEING THERE
Your job is hard. Our job is to simplify the challenges you meet every day and let you realize new possibilities. We do this like nobody else, with our live, archived, and time-lapse camera system. This turnkey solution enhances safety, documentation, communication, and marketing effort associated with your construction project. Follow your project with live streaming, high-definition video on demand. At the touch of a button, you can monitor your progress, people, equipment, and supplies.
Have a conversation chat with us to discover how we can help you.
HARDWORKING SOLUTIONS FOR CONSTRUCTION
ENHANCE YOUR VIEW OF THE SITE
Remote Monitoring – Effortlessly document and monitor projects with images ranging from high to extremely high resolution. Get the big picture or zoom in on fine detail while streaming to ensure work is on schedule.
Software Features – Software delivers on-demand time-lapse, instantaneous up-to-date project video clips created automatically by the camera. Polished presentations created by you using our custom time-lapse software can produce a professionally edited time-lapse movie at the end of your project.
Web Access – Follow your work remotely with live web streaming high-definition video on demand. At the touch of a button, camera manager can monitor your progress, people, and equipment. It's almost like being there.
Let's talk about how we can help you better market and manage your site
EXAMPLES OF OUR SOLUTION AT WORK
THE TOWER AT PNC PLAZA TIME-LAPSE
Rising 33 stories near the confluence of the Allegheny and Monongahela rivers, The Tower at PNC Plaza opened in October 2015 as PNC's new corporate headquarters. The building, which hosts more than 2,000 employees, represents the innovative and pioneering spirit of Pittsburgh and PNC's commitment to that community. Incorporating state-of-the-art green technology, including a double-skin façade and solar chimney, the tower was designed to exceed LEED Platinum certification and to be the greenest office tower in the world.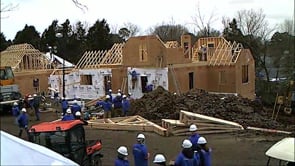 EXTREME MAKEOVER HOME EDITION TIME-LAPSE
In May of 2011 most of the town of Joplin, MO was wiped out by an EF-5 tornado which destroyed some 6,000 homes. In October of that same year, seven new houses were built in seven days along the 2300 and 2400 blocks of South Connor Avenue as part of ABC's "Extreme Makeover: Home Edition" television show. This is a long-term time-lapse from a WxVision camera showing the building of one of those houses.
24x7x365 SUPPORT
You never have to worry about your site cameras. With WMVision, we handle those worries for you by providing remote system monitoring. Often, we discover and fix a problem before you even know about it. The highest quality support is just a phone call away, available on your schedule, not ours.
Our technicians are always available, 24x7x365,
ensuring great service for you.